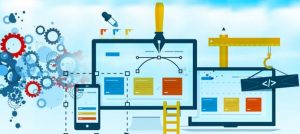 Whether you want to use static or dynamic website requires the knowledge that you have. If you have searched these terms online or you have overheard it thrown around you by your web designer, you must be having pretty much information associated with it. It is essential to understand the difference between static and dynamic websites so that you can define the finest solution for your website.
But first of all, we have to understand what static and dynamic website is. We should have a clear idea about these terms. If these terms are clear, then we can easily recognize the difference between these two terms. Let us explore something more about the static and dynamic website:
Know More about Static Websites:
Static websites include fixed numbers of pages and structure of web page. It is fixed which provides information to the customer.  The static website must run faster where the page is running on customer's browser. This type of website is made from HTML and CSS coding on plain text editor such as Notepad. For instance; a company website, institute website, and much more. Static site pages show the particular same information whenever anybody visits it.
Dynamic Websites:
Dynamic websites can change the web page contents dynamically whereas the page is running on customer's browser.  This type of websites uses server-side programming such as PHP, Asp.NET. and JSP and much more. Dynamic websites use customer side scripting for arranging dynamic design and server-side code to manage to happen, handle session and cookies, and loading and recovering data from the database. For instance; E-commerce websites, online form application, E-governance website, social networking websites to name a few. Dynamic website pages are efficient of creating different content for different people from the same source code file.
Static VS Dynamic Websites:
When it comes to exercising static or dynamic pages for portions of your organization's website, having the maximum progressive code on each of your pages is not essential. What is necessary is the purpose each page performs for your website. But there are some important differences between static and dynamic websites they are as follows:
In static web pages the topic and content of web pages stayed fixed and in dynamic web pages they changed according to run time.
Browsing and inserting of static web pages are faster than dynamic web pages because static web pages do not need the appeal of server like dynamic pages.
Changing the content in static web pages is a tough job because you have to create and upload a fresh page whereas in dynamic pages server application does this mechanically.
In static web pages the extensions of URL are .htm or .html while in dynamic web pages the URL extensions are .php, .asp, and .jsp.
Static web pages are made through HTML language whereas dynamic web pages are made by the practice of PHP, Java Script, and Action script languages.
Static web pages design is a simple and inexpensive method if you want to make static and non-updating web pages. However, dynamic web pages technique is suitable if you have a strategy to update the content and stuff regularly.
From these differences, you will understand the benefits of these two terms. Due to this, you will be able to choose the correct type of websites.